+661,000 individuals in the US have kidney failure and require dialysis.
6,146 Hospitals in the US. 

651,000 Medical Device Companies in the US.
More Reliable than Competitors
Major in-home PD machines in the market
Homechoice® Pro by Baxter
How are the machine conditions tracked?
Automatic (Powered by RTR System)
Rely on Users or Patients
Rely on Users or Patients
AMIA automated peritoneal dialysis (APD) with the Sharesource remote patient management platform is the first APD system to include user-friendly features that help guide end-stage renal disease patients through home peritoneal dialysis (PD) therapy, while keeping them remotely connected with their healthcare providers.
The tracking of machine conditions depends mainly on users or patients. And the recall in 2017 has raised concerns, after increased customer complaints about solution slow flow, inadequate drain, etc.
Homechoice is the world's most widely prescribed automated peritoneal dialysis (APD) cycler, and can also feature the Sharesource platform.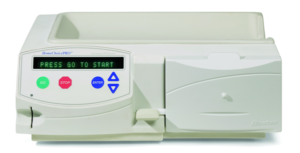 The system reliability can be concerning after a recall in 2010 and a warning in 2013 by Baxter to patients. The warning was on the potential software problem that could cause low blood pressure and hemodynamic compromise.